solderable heating fabric
The Ultra Heating Fabric is the world first conductive fabric which can be soldered directly with general cable.  Thus, it can be integrated perfectly with your electronic processing.  This feature provides better safety, especially, in helping safety qulification.

In addition, the resistance of the fabric is a linear relation with fabric length.  Thus, engineer can easily define the heating layout by cutting simply the fabric into the length you desired.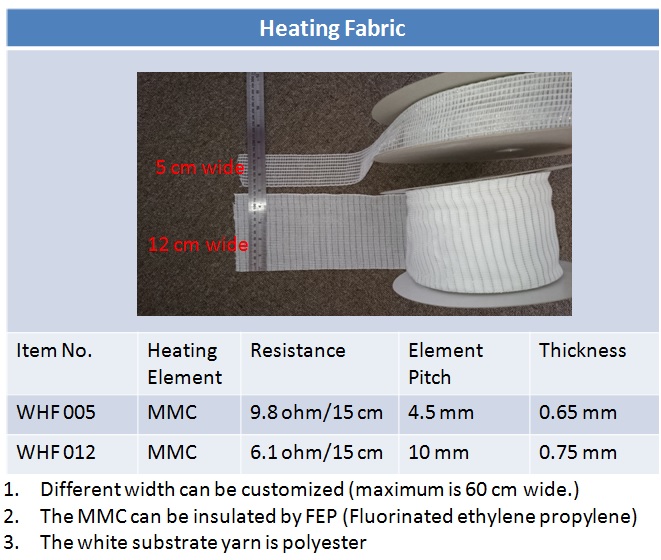 Wearable Technology is gradually infiltrating into our life such as smart glass, smart watch and mobile phone.  People want to be released from domestic power line.

Our Ultra Heating Fabric made by our invented Micro Metal Conductive (MMC) fiber is specially designed to wearable heating. The most exciting thing is that the fabric is the world first conductive fabric which can be soldered directly with general cable and PCB. The key point of the wearable heating is safety and battery power comsuming. To meet those requirements, the resistance of the heating element have to match the output capability of the commercial battery such as power bank.  For this purpose, our Ultra Heating Element  offers different ranges of resistance to satisfy your requirements.

Acoording to our design philosophy, the lower the applied voltage is, the safer the wearable heating product is.  Thus, Wirekinetic insists to use a 3.7~12 Volt battery power to generate near body heat.  This will be very safe to our users.  The temperature can go to 45~60 ℃, even though the applied power is such low.

The MMC fiber heating fabric is really a simple, safe, energy saving, and excellent thermal performance product.  It prrovides a new concept for wearable heating. 

For different users' considerations and designs, Wirekinetics offers you plain Ultra Heating Fabric and insulated Ultra Heating Pad.